How to Start a Fire without Matches
Knowing how to start a fire is so important for essential survival skills. If you have kids, they may have asked you a time or two, "how do you start a fire?" Knowing how to start a fire without matches is genuinely high-speed/low drag. Now if you have matches stashed all over, that's great and even better if they are waterproof matches. But do you think they will work when you really need to make a fire? Just nod your head side to side. So let's learn how to make a fire in the wild, true survival style!
We need three things to start a fire:
1) Tinder – materials which will readily ignite with a spark.
2) Kindling – Small pieces of grass, leaves and twigs
3) Wood – Sustaining fuel. (gradually increase the size of the wood)
Tinder
So before you start, get some good, dry tinder. What's the best tinder? Cotton Balls! A little spark will get them burning so long as they are dry. Put some in a sealed plastic bag and put it in your firestarter pail with some Vaseline. Cotton balls with Vaseline will burn very nicely for a few minutes.  You can also use almost any dead vegetation such as dry grass, crumpled up leaves, pine needles, inner bark or wood shavings.
Got any jute twine laying around? That's pretty flammable, especially if you pull the strands apart. Whatever you use, make sure it's dry and have kindling ready to go once you have the fire started.
Kindling
Kindling can be many things such as pine cones and small branches. Once again, they must be dry to catch fire and it's best to be less than an inch in diameter.
Wood
Now look around for larger burning material. Bigger sticks or even logs split for campfire size is just fine. This will keep the fire going for some time and you don't have to keep a constant eye on the fire. Now let's get to the fire starting methods.
Fire Plough Method
Cut a groove in a board or a good sized branch. The spindle or another branch will run in this groove. Rub the tip of the spindle in the groove and have your tinder close by so when you develop embers, you can place the tinder on top of the ember. Blow a little air into the ember to help catch the tinder and FIRE!
Bow Drill Method
This is probably the best way to make fire without matches as you can control the friction action on a small area relatively easy. The socket is important to keep the shaft from making a hole in your hand and it can be just about anything.
The bow is a branch that will be bent and tied together with a string such as shoelace or some of the jute twine. Make the bow roughly the length of your arm for plenty of power to start the fire.
Cut a notch in the fireboard and place some tinder beneath the notch to catch the ember when you are 'sawing'. The spindle should rotate pretty fast and in not much time you will be able to generate enough friction/heat to start pieces of the fireboard embers to catch the tinder.
9V Battery and Steel Wool Fire Starter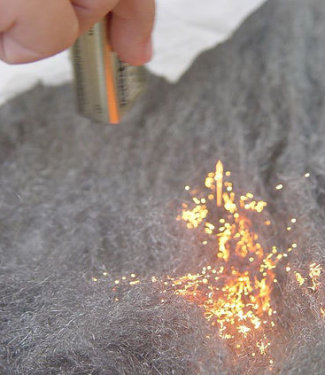 Now this method is kinda fun so I had to throw it in here for a possible way to start a fire. Unroll some steel wool and rub the contacts of the 9 Volt battery against the steel wool and it will start burning pretty quick. Get your tinder on the wool and again you have fire.
Note: A charged battery is necessary for this to work and the stronger the charge in the battery the quicker the wool will catch fire.
Everstryke – Waterproof Emergency Firestarter – Flint Fire Starter
No this is not a match! It is a basic flint system. Pull the serrated handle out of the unit and strike across the edge of the unit to get a flame. No fuel required for this system and you get over 15,000 strikes. Lots of fires!!
Get it FREE here! Just pay for shipping!
The Everstrkye Match Will Always be Ready to Start a Fire Even After Being SOAKED in Water
Has it all: Contains the ferro rod and wick in one all-inclusive fire starting kit that fits conveniently in your pocket
Strikes hot, burns hot: Ferro rod strikes at over 3,000 degrees and flame burns at over 600 degrees Fahrenheit
Long Lasting: Each match is capable of 15,000 long burning strikes. Built in O-Ring keeps fuel from evaporating indefinitely ( A Zippo can run dry in as little as a week!)
Easy to use: If you can strike a match you can start a fire (and this one won't burn your fingertips)
Ultimate survival tool: In a survival situation a fire is life, this tool will make sure that you can start a fire whenever, wherever you need it
And you can get it here! Free, you just have to pay for shipping!
After you get the fire started, you put some kindling on the burning tinder. Once the kindling get going, put some wood on the burning kindling. You can place the wood on the fire in a teepee, pyramid or log cabin method, either way will keep the fire going and you will have succeeded in making a fire without matches.
There you have it, a quick and dirty primitive fire starting primer with some newer ideas with steel wool, batteries and flint starter that is not so primitive.